AMPOL's Commitment to Safety
At AMPOL, safety is our priority and is ingrained in our culture. We believe that our uncompromising commitment to human safety and environmental protection directly reflects our commitment to quality and is an integral part of our commitment to our customers and their projects. The AMPOL team has maintained constant sight of it's goal to achieve an incident-free workplace. AMPOL has continued to grow and expand its range of services. Through it all, one thing that has not changed is our commitment to employee safety.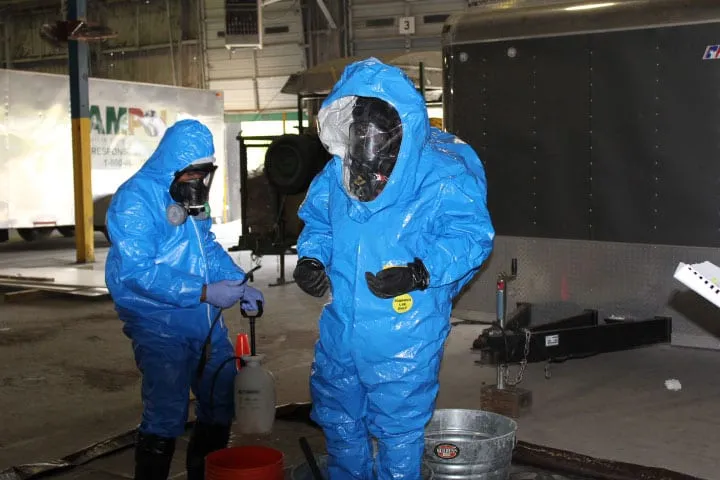 American Pollution Control Corp. (AMPOL) is a full service environmental remediation company and contractor that specializes in inland, nearshore, and offshore emergency response and hazardous waste remediation. Serving oil and gas companies, industrial companies and government agencies, AMPOL provides emergency and nonemergency toxic and hazardous materials containment, collection and assistance with transport and disposal.
AMPOL has been recognized by the United States Department of Labor and the Louisiana Workmen's Compensation Corporation for its excellent safety record. AMPOL maintains one of the largest and most thorough inventories of spill response equipment in the Gulf of Mexico region.
When it comes to spill response, we lead the way. AMPOL is a United States Coast Guard (USCG) rated Oil Spill Removal Organization (OSRO) level MM through W3. With the most experienced and best trained field staff in the business, AMPOL has an extensive emergency response force that provides quick mobilization and professional execution.
Complementing our spill response services are full service packages we provide for Asbestos / Lead / Mold & Mildew Abatement, NORM, Confined Space Entry & Rescue Standby, Site Remediation, and Tank Cleaning needs. All services can deploy to any location, 24/7, for emergency response or projects.
Our inventory of spill response recovery equipment is second to none in inland, nearshore and onshore locations. Our extensive logistics and support equipment includes Guzzlers, End Dumps, 70 and 130 Barrel Vacuum Trailers, Dumpster trucks and Duel and Single Box hauling capabilities.
Through AMPOL's Oil Stop Division, we provide a complete range of manufactured oil spill and pollution control products which includes an array of different containment booms. No two spills are the same, but whatever the challenge, AMPOL's fully trained crews are ready for the task-safely, efficiently and thoroughly. In AMPOL's new incident command and training center, all AMPOL employees are properly trained and certified to handle the various environmental issues that arise.
AMPOL was founded by CEO/President Kirk Headley in 1993 as a response to the booming oil and gas industry in South Louisiana. In recent years, AMPOL has rapidly expanded from our corporate headquarters in New Iberia, LA and Oil Stop office in Harvey, LA to a total of six offices along the Gulf Coast in Louisiana and Texas, including Bayou Vista, Chalmette, Venice and Port Arthur.
Over the years, AMPOL has earned its reputation as an elite intercontinental environmental services and emergency response company. Our commitment to customer satisfaction fuels our drive to improve techniques, identify innovative technology through aggressive research and development, and apply our resources to that commitment. Our team's dedication to be ready to respond continues to propel AMPOL's reputation as the industry leader in total environmental solutions. As many milestones as our company has already achieved, its future looks even brighter.
AMPOL leads the industry in experience, reputation and execution. For each project, we bring our award-winning and innovative techniques that prove safe and effective results.
OIL STOP® SPILL RESPONSE PRODUCTS »
AMPOL's products division, Oil Stop®, is one of the leading containment boom manufacturing companies in the United States. Oil Stop® offers a full range of oil spill control equipment including oil spill containment boom, liquid storage devices and oil skimmers, boom reels, power packs, inflation blowers, turbidity control curtains, flood control barriers, and decontamination pools.